Blogs
Securing the future of Agriculture in the face of an ageing farmer population
May 29, 2019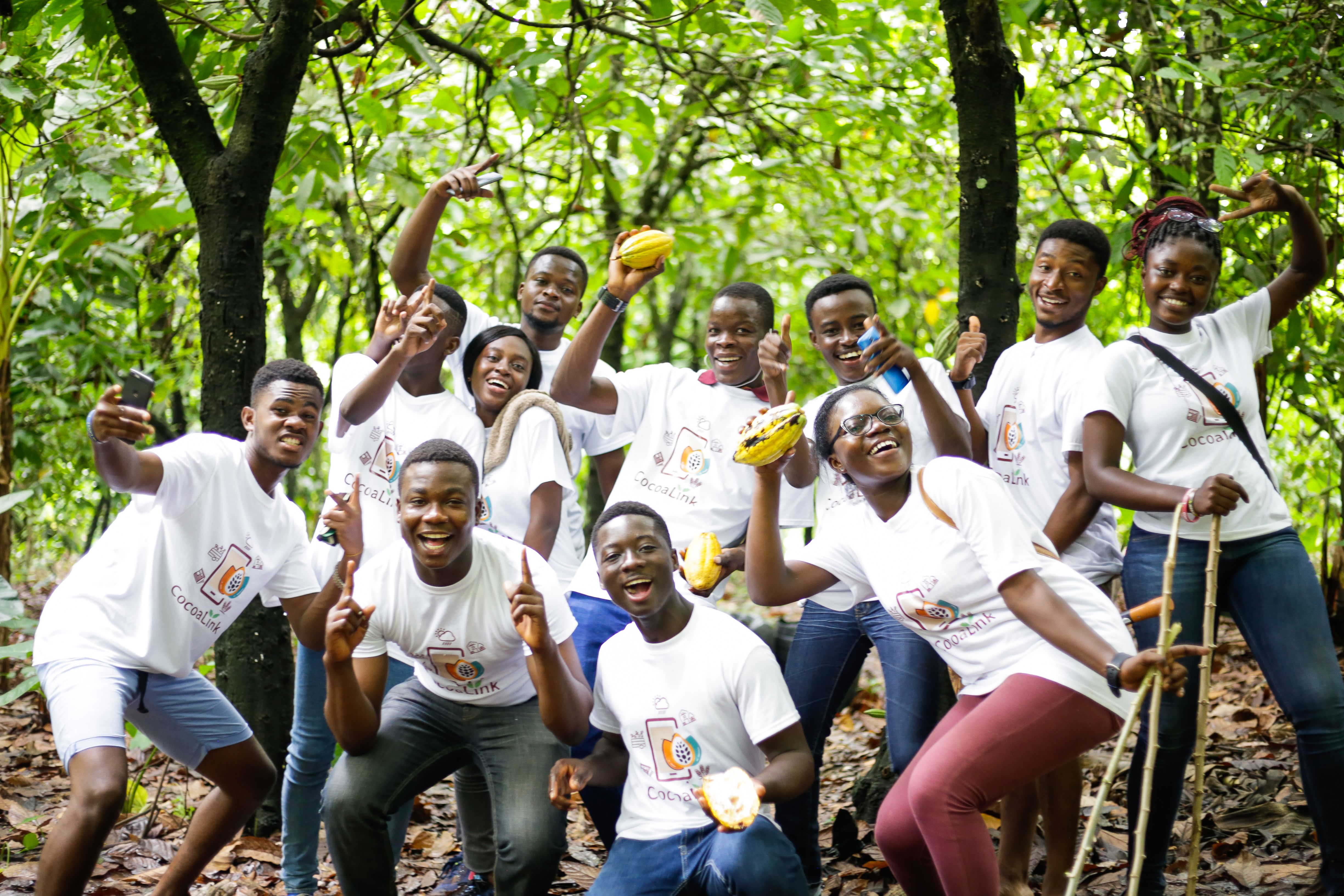 A growing concern in agriculture is the issue of the ageing farmer population. Globally, the average age of farmers is 60 years old, and young people are increasingly gravitating towards non-agricultural careers (World Farmers' Organization, 2017), making the future of agriculture uncertain. Most young people fail to see agriculture as a profitable and exciting career option and Farmerline is focused on changing such perceptions. The organisation is tapping into the entrepreneurial opportunities that the youthful population of Subsaharan Africa presents to build a generation that will revitalise and boost the growth of agriculture. Below is a case study on Farmerline's efforts toward achieving by the USAID's Feed the Future initiative.
Background of Ghana's Agriculture Sector
Sixty-eight percent of Ghana's population live in rural areas, with agriculture contributing 54% of the GDP and accounting for 40% of export earnings. Agriculture provides 90% of the country's food needs — all through farms with an average size of less than 1.6 hectares (FAO Organization, 2018). Forty percent of Ghana's population works in the agricultural sector, though this number has declined in the past five years, from 45% in 2013, and Ghana's food imports are on the rise (World Bank, 2017).
Ghana is like many other countries in Sub-Saharan Africa and globally experiencing an ageing farmer population and rapidly growing youth population. The average age of farmers in Ghana is 55 years, with life expectancy averaging between 55 and 60 years (Ghana Ministry of Food and Agriculture, 2011). At the same time, 30% of Ghana's population is aged 10–24 years. Many youth are migrating from rural to urban areas to seek employment, rather than working in agriculture (UNFPA, 2014b). However, according to a 2015 Labour Force Report, youth unemployment remains high: 31% of young females and 25% of young males do not have gainful work (Ghana Statistical Service, 2015).
Ghana's Digital Ecosystem
In terms of Ghana's digital ecosystem, the country is above the regional average in terms of market penetration, mobile internet, and 3G network coverage, with a market penetration rate of above 50% and nearly one-third of the population having access to mobile internet. This is the second highest Internet access rate in West Africa (Farmerline, 2018).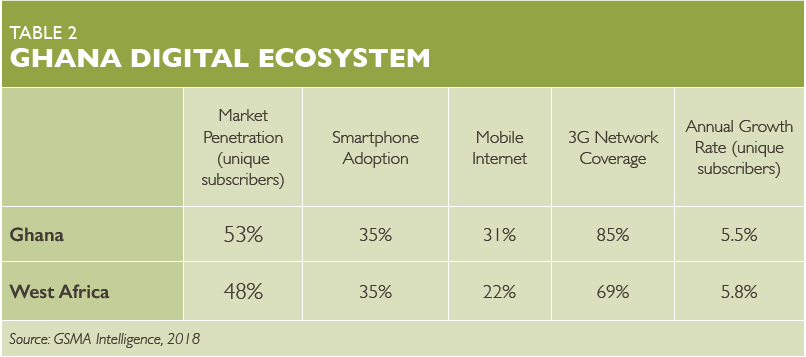 Farmerline's Initiative
Farmerline was established in 2013 as a social enterprise. It uses technology to increase information access for smallholder farmers, reaching over 200,000 farmers in 11 African countries, including Ghana. Through support from Hershey, Farmerline developed CocoaLink 2.0, an informational application that targets cocoa farmers in Ghana, building on the success of Hershey's original CocoaLink platform, which leveraged SMS and voice messages to exchange information with cocoa farmers.
Through gamified and interactive content in a variety of digital media such as video, pictures, interactive quizzes, and chatbots, CocoaLink 2.0 aims to inspire, train, and incentivize the next generation of Ghanaian cocoa farmers.
The target audience for CocoaLink is youth aged 18–35. Farmerline engages them through churches, universities, and agriculture courses, predominantly in the Ashanti region. One of Farmerline's outreach strategies is their Farm Field Days, conducted in partnership with university agricultural programs. Farmerline takes students to the field, exposing them to cocoa farming and helping them learn about the CocoaLink application, harnessing the power of in-person communication and mentorship. Farmerline has also elected university campus ambassadors to support marketing and feedback collection from young users.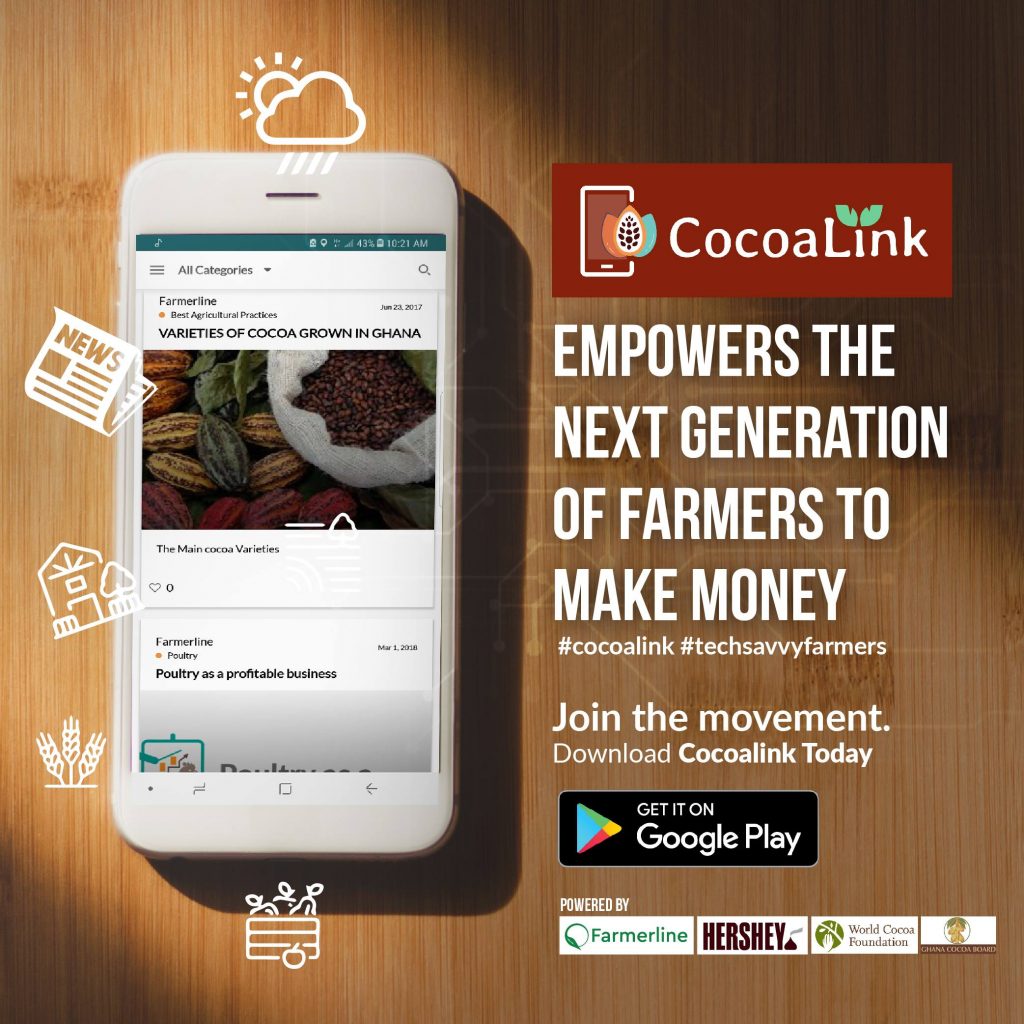 Key Successes
Farmerline conducted a pilot of CocoaLink in 2017 with 800 young farmers, in partnership with Hershey and the World Cocoa Foundation. The goals of the pilot included improving the certification efficiency and sustainability of cocoa supply chains and increasing access to information for young farmers. This effort ultimately contributed to increased farmer incomes and improved agricultural productivity for Ghana. The platform has built a community of over 2000 young users in just about a year of being launched. Additionally, Cocoalink serves as a unique avenue for young people in Ghana to learn about cocoa farming and see firsthand how involvement in agriculture can be a profitable and respectable career.
Lessons Learned and Scalability
Farmerline demonstrates that ICTs can be a highly effective tool in engaging youth, but it should not be the only one. Human connections are also vital, particularly for youth who may not have access to or be comfortable with digital technologies. This understanding led to Farmerline's Farm Field Days, which provide opportunities to foster in-person relationships between university students and the organization, while sharing the idea that cocoa farming can be profitable and exciting. Additionally, Farmerline recognized a need to engage users with varying degrees of technology access. This recognition drove them to develop the Farm Assistant BOT, an AI-powered chatbot that allows users to interact with CocoaLink through Facebook Messenger.
In implementing Farm Field Days, Farmerline also identified the need to specifically target and encourage female participation, as over 80% of the field day attendees have been male. For that reason, Farmerline has been trying to talk to more female students when they attend career fairs at local universities.
SOURCE: This case study was originally written and published as part of USAID's Feed the Future report; ENGAGING YOUTH IN AGRICULTURE THROUGH INFORMATION AND COMMUNICATION TECHNOLOGIES. Feed the Future is the U.S. Government's global hunger and food security initiative.
Download the Cocoalink App and join our community of ambitious future leaders in agriculture.