Press Release: Farmerline secures new investment by Hivos-Triodos Fund to expand reach to smallholder farmers in Africa
August 29, 2023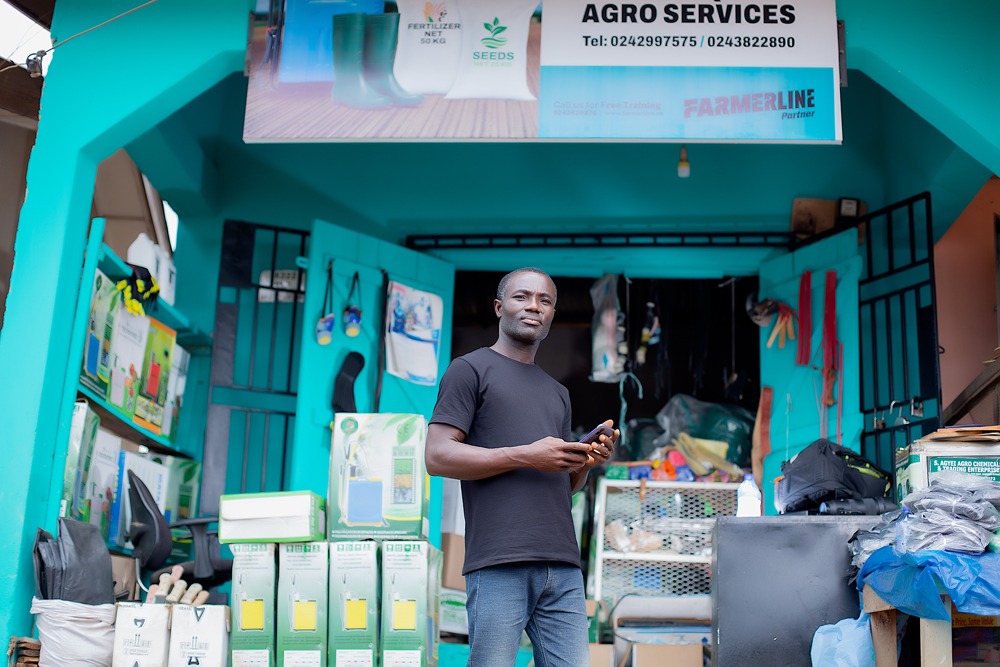 Hivos-Triodos Fund has provided a USD 1.5 million facility to Ghana-based agri-tech company Farmerline. The company is a market leader in agri-tech in Ghana and supports smallholder farmers and agribusinesses with digital tools, logistics, field agents, agri inputs, education, and online trading services. The facility will be used to strengthen Farmerline's position and expand the company's reach.
Founded in 2013 by CEO Alloysius Attah and COO Emmanuel O Addai, Farmerline has quickly grown into a smallholder agri-tech market leader in its home country Ghana, and beyond in Africa. The company helps to transform rural smallholder farmers into successful entrepreneurs by delivering data and services that improve productivity, decisions, practices, crop outputs, income, and livelihoods, leading to food security, employment opportunities, and increased income.
Allround farmer services
Through the award-winning farm management system Mergdata, Farmerline offers training to smallholder farmers in good agricultural practices, knowledge transfer on smart use of agrochemicals, and climate-resilient agricultural methods to help farmers increase their yields. Merdata also sends bulk messages on weather and provides crop insurance and other agronomic advice to thousands of farmers in their local language.
Furthermore, Farmerline ensures farmers are connected to buyers nationally and around the world through its trading platform. Farmerline first sources commodities from within a network of cooperatives where the company has a first right of purchase. Since 2020, Farmerline trades soybeans, rice, corn, cashew, and sheanuts to local and international off-takers including processors and aggregators, and is currently exploring other value chains like cassava and vegetables. In addition, Farmerline also provides financing for drought-resistant seeds (no GMO) and organic and inorganic fertilizer (applying WHO standards) through a network of agro-dealers.
Farmerline reaches over 300,000 smallholder farmers through its farmer services/training platform and over 1.7 million farmers via third-party licensing of the Mergdata software to over 3,000 companies in 48 countries spread across Africa, Europe, and the US.
Ecological and societal resilience
The USD 1.5 million facility provided by the Hivos-Triodos Fund will be used to strengthen Farmerline's working capital needs to expand its reach and provide its services to a greater number of smallholder farmers.
The global food crisis and climate change have a devastating impact on many African nations and even more on rural and farming communities. These problems are exacerbated by the lack of access to basic needs like quality inputs, technology, information, training, and access to markets to enable the farmers to grow more food in a sustainable manner and earn more income, explains Investment Manager Jerry Kwo. "Farmerline has developed a functional solution leveraging technology to solve these problems and increase food security. This is a good fit with Hivos-Triodos Fund in terms of positive impact in ecological and societal resilience and in improving the wellbeing of thousands of smallholder farmers in West Africa."
"We are excited to partner with Hivos-Triodos Fund to expand our reach to more smallholder farmers in Africa," said Alloysius Attah, CEO of Farmerline. "This funding will allow us to provide even more farmers with the tools and resources they need to succeed."
What is agri-tech?
Agri-tech, sometimes ag-tech, agtech or digital agriculture, is the application of technology and digital tools to farming. It encompasses a wide range of technologies, including automation, biotechnology, information monitoring, and data analysis. Agri-tech can be used to improve efficiency, increase yields, reduce costs, and boost sustainability. It has become increasingly important in recent years as demand for food increases and climate change becomes an ever-present threat to food security.