Blogs
COVID-19; how we are working to keep farmers and employees safe
April 6, 2020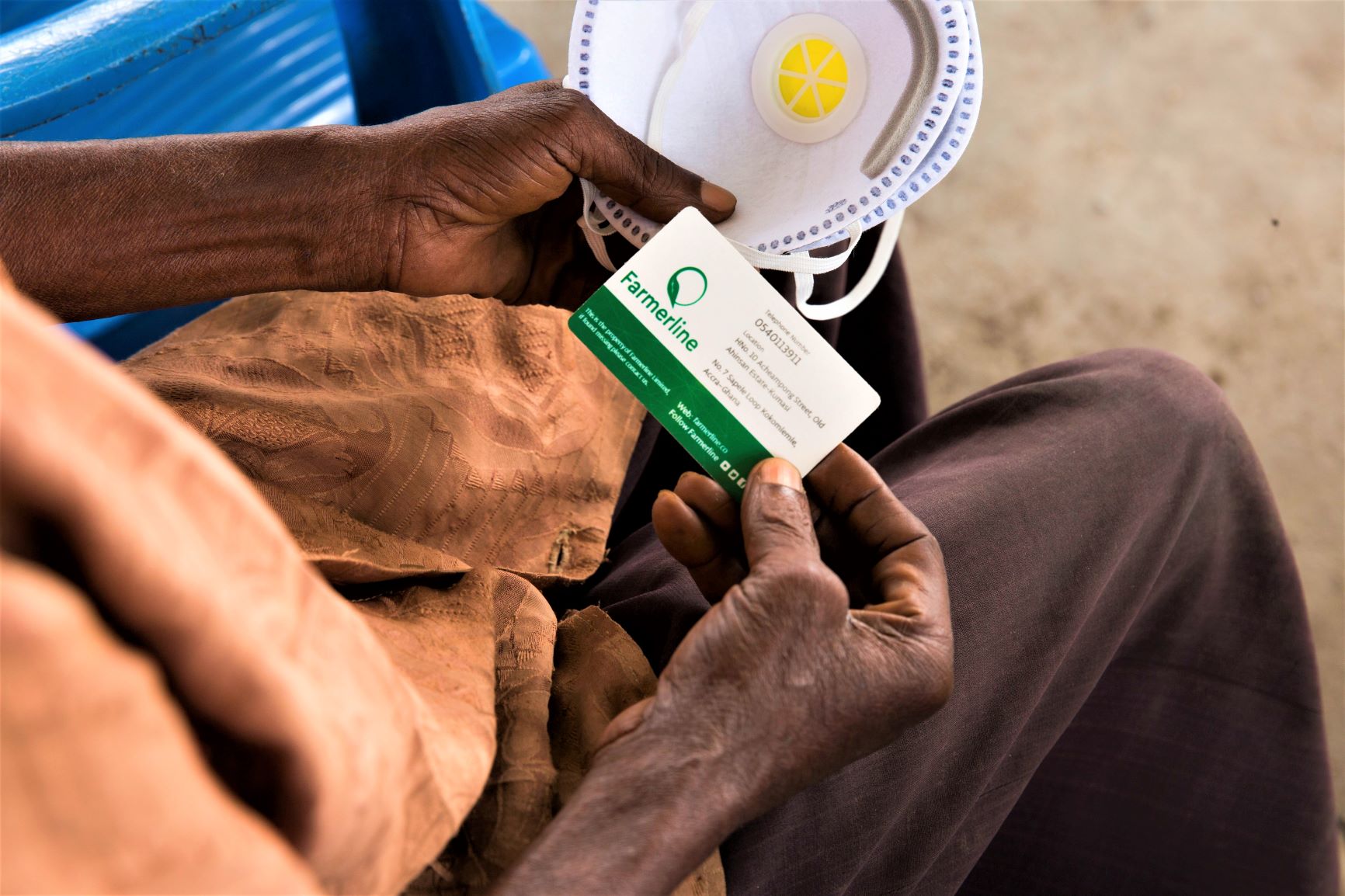 Ghana has not been spared from the COVID-19 global pandemic. As countries across the world instigate lockdowns, close borders and advocate social distancing, we here at Farmerline have also been changing how we work. We want to keep safe and keep supporting our farmers and Ghana's food value chain. We are also strongly focusing on keeping our farmers informed as to how they can stay healthy and keep doing their vital work.
Since Ghana confirmed its first cases of COVID-19 on March 12, Farmerline's 54 staff, split between our offices in Accra and Kumasi, have quickly changed how we work.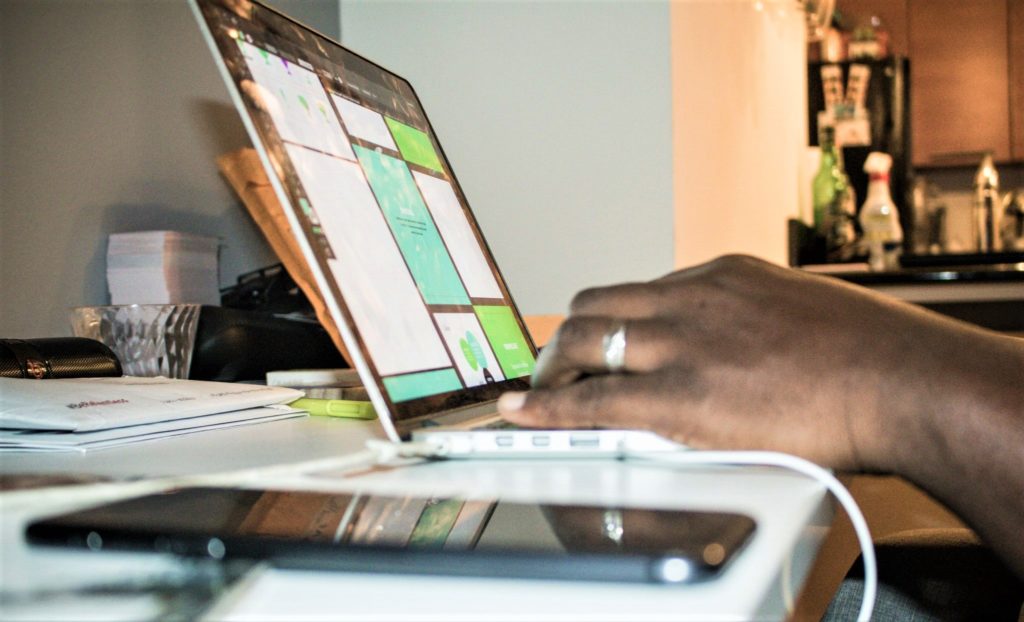 When Ghana announced the first cases, we allowed team members who commute to work via public transport to work from home if they wished. However, as the cases increased and Ghana initiated a partial lockdown, we have moved all of our meetings online.
Adwoa Adadzewa Afrifa, Farmerline's Acting Head of Corporate Operations is working to make sure our team members in Accra and Kumasi have the logistics and systems they need to operate.
"We have ensured our staff have data to work from home, and regular check-ins with team leaders to ensure all needs are addressed. We have also ensured our field staff have the IDs and resources they need to continue serving farmers," Adwoa says.
Farmerline, like many other organisations across the world, has had to deal with challenges due to COVID-19, including altering plans and postponing activities because team members cannot be present in person. However, Adwoa says these challenges are also bringing the team closer together.
"We have learnt how resilient and innovative people can be in the face of unplanned situations like this. Our teams have been very collaborative during these times, and we have witnessed a true demonstration of one of our key values; succeed together," Adwoa says.
Working with farmers during COVID-19
It is not only our team members in the offices who we need to think about during COVID-19. Farmerline remains dedicated to smallholder farmers. Our field agents are delivering essential inputs farmers need to cultivate their farms while observing all safety protocols.
We are also reaching out to farmers across Ghana through mobile voice messages to give them vital information and awareness of COVID-19. These messages are going out in local languages.
So far, 7,844 farmers have received 43,732.5 minutes of COVID-19 tips in Twi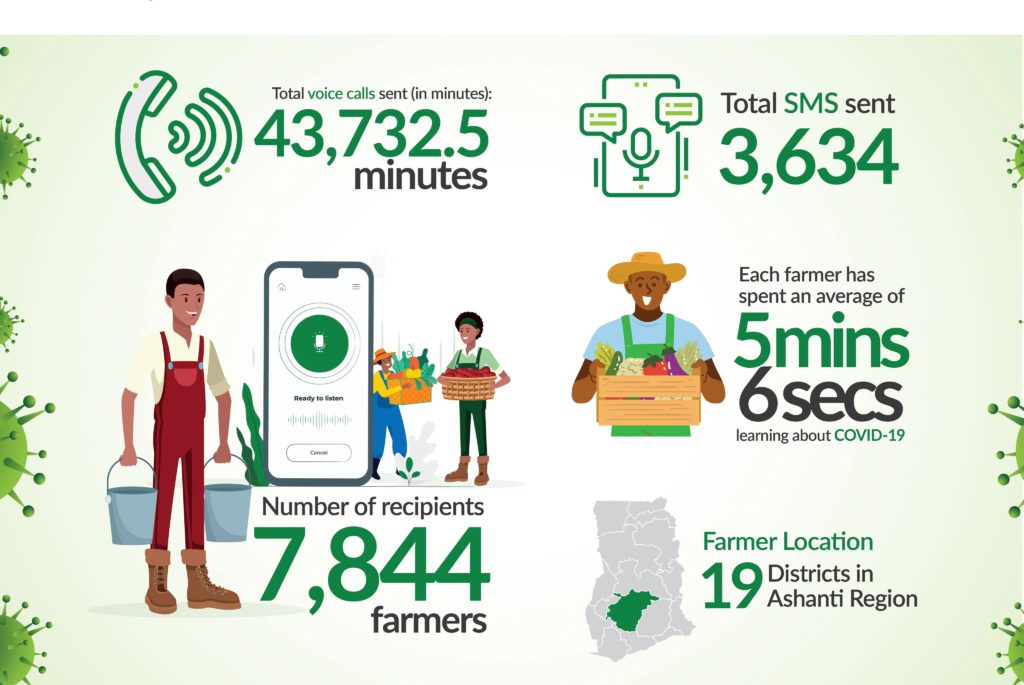 We are also running a campaign on social media to enlist volunteers to record voice messages in 13 additional local languages. Volunteers are recording messages in Ga, Ewe, Dagbani, Hausa, Fante, Bono, Dagaare, Sisaala, Frafra, Nzema, Gonja, Mampruli, Waale.
Using World Health Organisation information, the messages explain what the virus is, how it spreads, the symptoms to look out for, and who is most at risk from it. They also detail how farmers can protect themselves from it and what to do if they fall sick.
Margaret Addai, a cocoa farmer in Bipoa, which is in the Ashanti Region, has received the messages in Twi. She says the messages are crucial for farmers like her. Without them, she says she would not have been aware of the risk everyone faces from COVID-19.
"We (farmers) live in rural communities; not everyone here has access to a radio set that will help them keep abreast with news and trends. But even the poorest in these communities have access to a handset, so information sent through the mobile phone is the surest way to keep people informed in these times," she tells us.

"Once they receive these calls, they will learn what is going on and be able to put the tips into practice. Not everyone is aware of these protective measures that Farmerline shares with us. For instance, some people will mostly wash their hands when they are about to eat. But with the education people become more aware and wash their hands more often."
If you work with a farmer group that will benefit from this service contact us via email: team@staging.djgd.co.uk
If you would like to volunteer to record messages in local languages, please send an email to team@mergdata.com