Get the farmers in your network to subscribe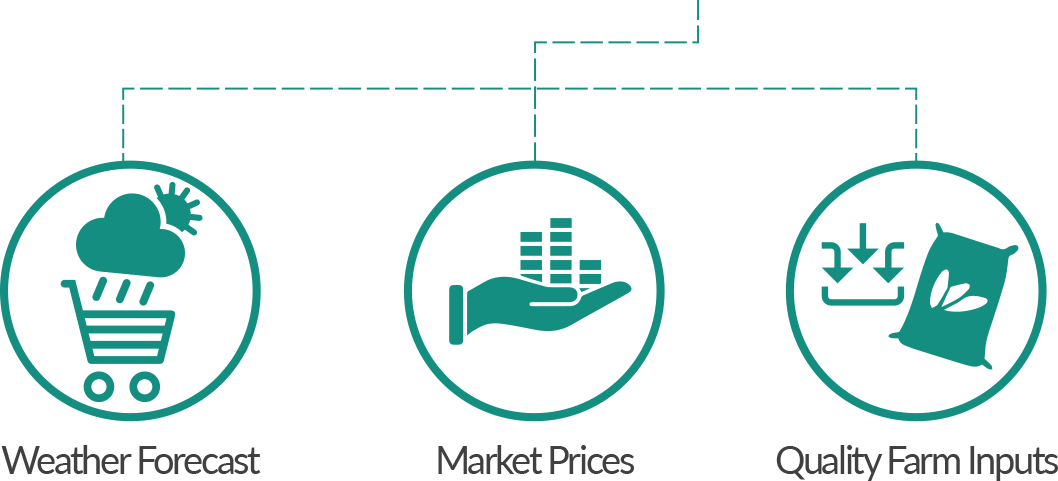 May 4, 2020, 71 views
by dialling *399# on any network in Ghana to access…
Mission
, 84 views
Creating lasting profits for farmers everywhere.
Farmerline Steps up Efforts to Increase Youth Engagement in the Cocoa Value Chain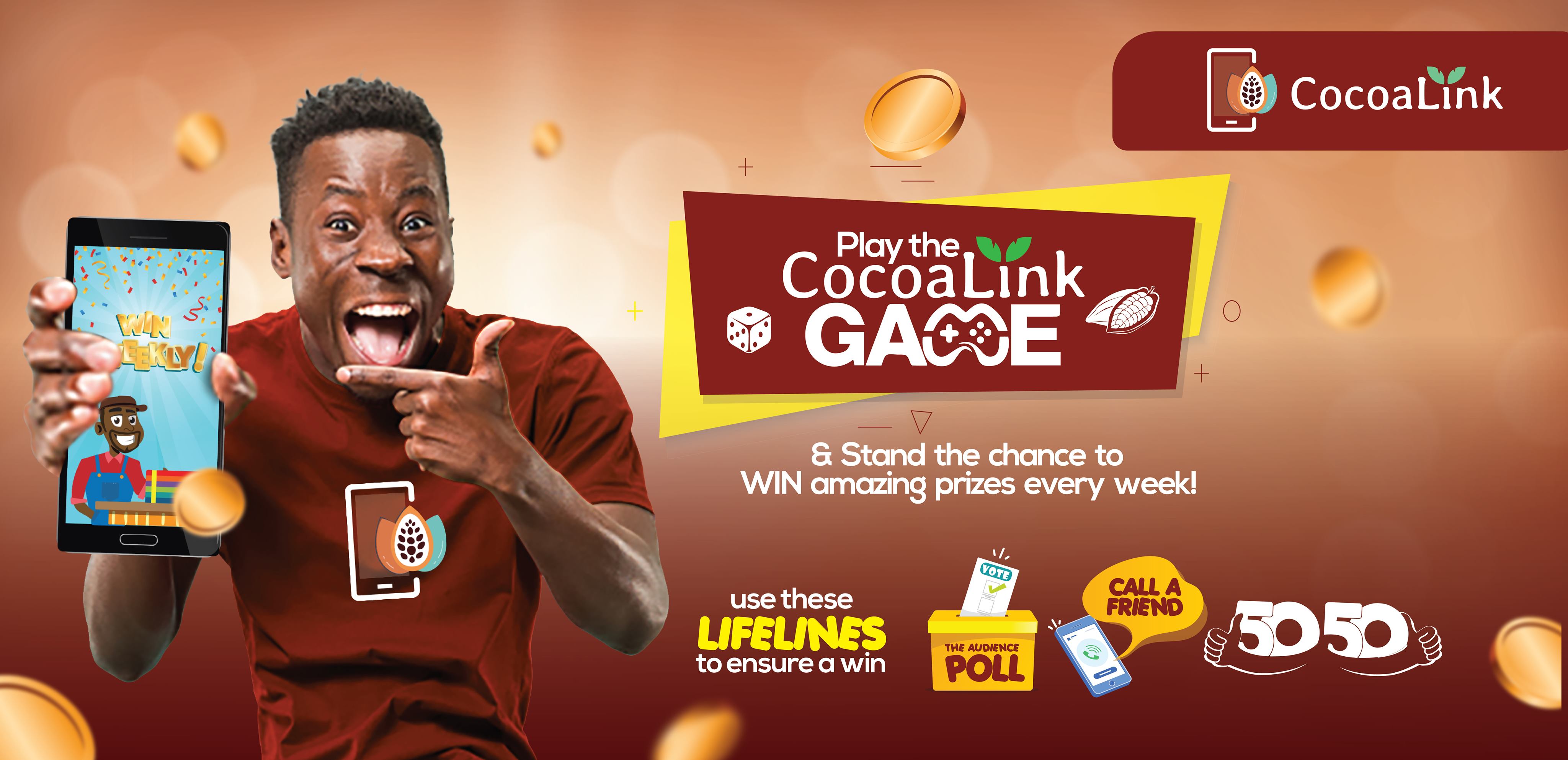 November 5, 2019, 1,492 views
Farmerline has launched a game which seeks to educate and incentivise Ghanaian youth into partaking in the cocoa value chain. The game introduces an added experience to Farmerline's CocoaLink mobile application by bridging the divide between learning and having fun. At the same time, it reels in the attention of the younger generation into different aspects of the cocoa value chain, and the opportunities available to them. 

The game employs the format of the popular TV show, 'Who Wants To Be Rich'. The goal of the game is to attain 1,000,000 points by answering 15 questions on cocoa and chocolate. As part of the launch, a quiz competition will run till the 30th of December with winners announced each week based on the total score on the leaderboard at the end of the week. Even though it is open to young people, cocoa and chocolate lovers, the quiz is limited to only players in Ghana.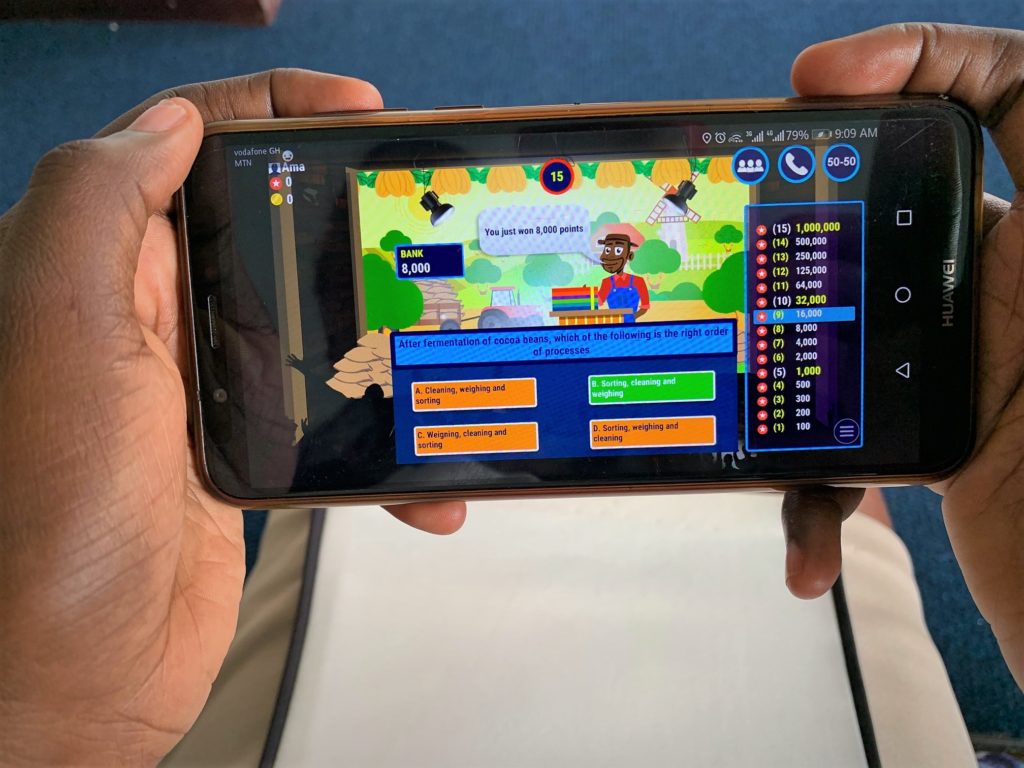 The Cocoalink app was created by Farmerline in partnership with Hershey and World Cocoa Foundation to train farmers, and encourage Ghanaian youth to be involved in the Cocoa value chain through interactive digital media contents on the mobile application. With over 5,000 app downloads, users have spent 92,000+ minutes learning best agricultural and business practices on the app, CocoaLink has established itself as a resourceful and timely tool for farmers and extension officers across the country. Together with partners like the International Center for Tropical Agriculture, the application has been able to contribute to the adoption of Climate Smart agriculture practices through its Cocoa Zones feature.
5000 + Downloads
92,000+ mins spent learning
Download the CocoaLink App today and start learning!
WHO IS THE FARMER'S PARTNER FOR GROWTH?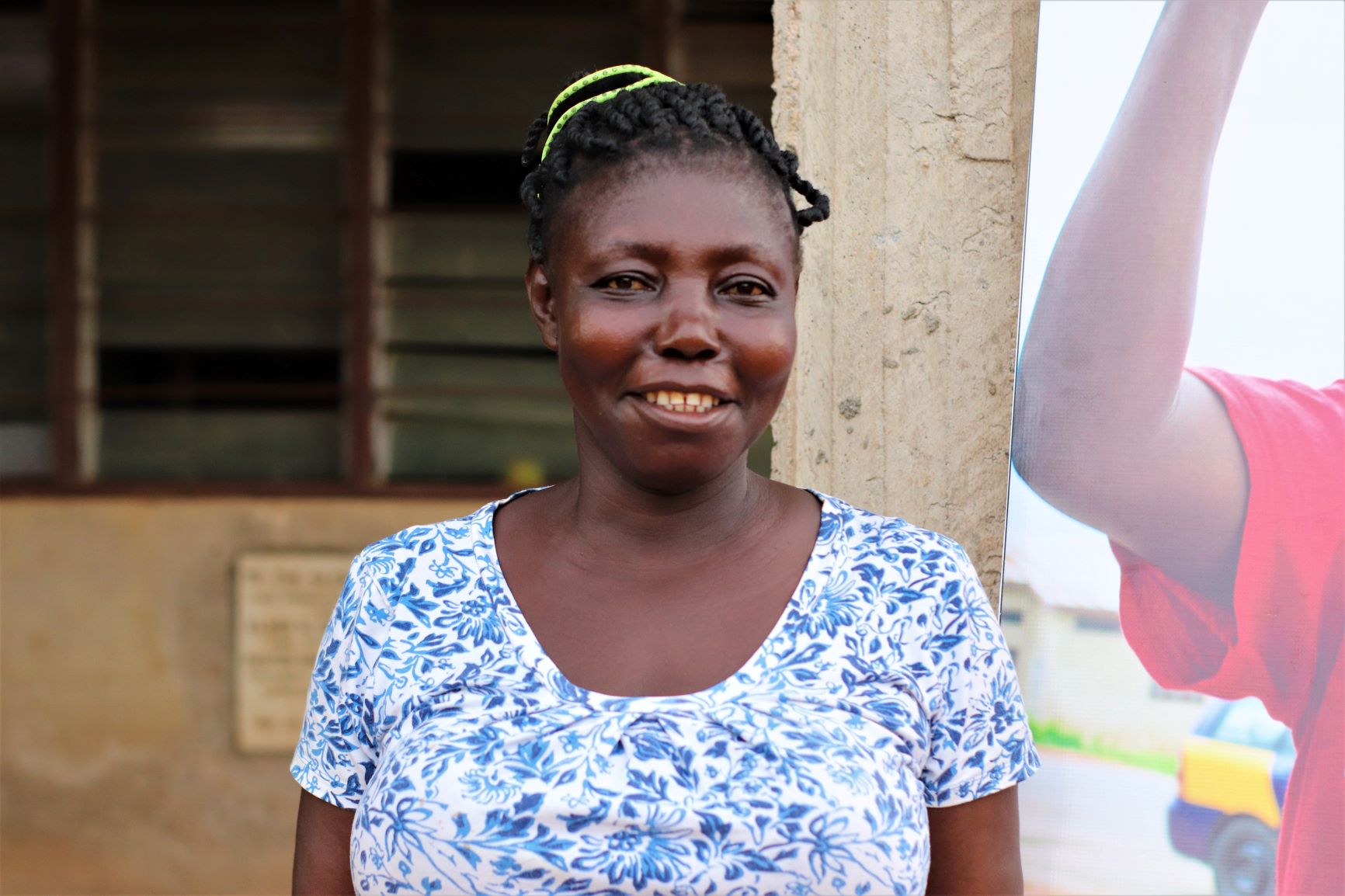 October 14, 2019, 1,199 views
According to Ghana's Ministry of Food and Agriculture, to every extension officer, there are about 2000 farmers who need to be served with information and resources. The disproportionate number of extension officers means that many farmers go about their farming activities with little guidance, support and insight into best practices that will increase their productivity and efficiency.

Abigail Kyiriw is one of such farmers who has worked hard and tirelessly with little supervision over the years. She started her farming career as an apprentice on her father's farm at age 20. She grows cocoa, plantain, pawpaw on 8 acres of land and rears sheep and fowls in Atwea, a farming community in the Ashanti Region. Abigail, now 52 years, has built a successful career in agriculture, receiving awards for the best farmer in her district on a number of occasions. Together with her husband, who is also a farmer, they have raised and educated their 5 children through their farming business. Despite her industry, Abigail shares that working as a farmer comes with enormous challenges.
Farming is a very demanding trade and farmers need all the support we can get to be successful in this space. Markets change, practices get advanced and now the weather patterns are also changing. It's October and rains are as heavy as they were in June

said Abigail.
Aside from the limited guidance that farmers receive, farmers have to deal with the risk of buying fake inputs. According to research by the Bill and Melinda Gates' Foundation and Monitor Deloitte in 2019, 30% of insecticides on the Ghanaian market are unapproved or smuggled. The seasonality of their crops also means farmers may not have enough money throughout the year to purchase quality inputs.
About six months ago, Abigail discovered a companion for farming business when Farmerline carried out a Farmer workshop in Atwea.
I had heard of the good works of Farmerline on the radio, so I was excited when they came to my community. I recognised immediately the role they will play to help me overcome pertinent challenges as a farmer so I did not hesitate to get the Farmerline card and sign up for their services.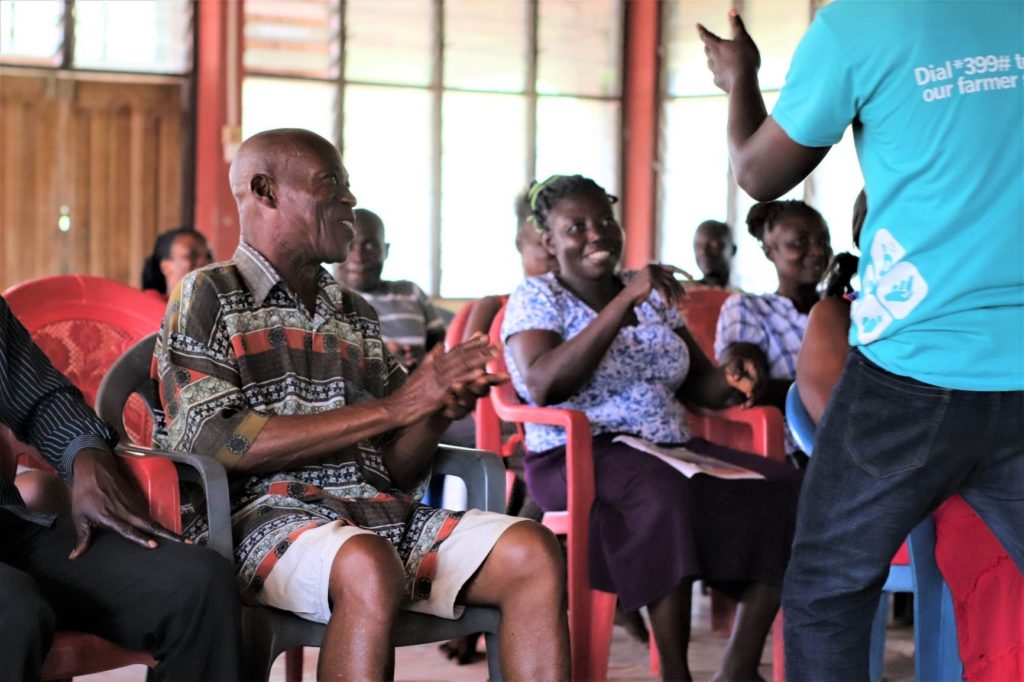 Abigail now receives the guidance she had been lacking and weather forecasts on her mobile phone regularly. Aside from this, Abigail has been benefiting from Farmerline's input credit program, under which she is provided with quality farm inputs that she can pay for on a later date.
"I get regular calls on weather forecasts and better ways to farm while I am on my farm. For me, these calls are not only informative but they really give me a lot of hope to do a good job as a farmer. I feel I have a companion who is always checking on me and giving guidance to succeed", said Abigail Kyiriw.
Farmerline's Farmer Group in Atwea

Abigail Kyiriw
Abigail is also the secretary of the Farmerline Farmer group in her community. She dedicates herself to organising group meetings, keeping records of the group and liaising with the Farmerline Zonal officer in her area.
"I have volunteered to help other farmers in my community benefit from the companionship and support I get from Farmerline. I want every farmer to become self-reliant and to be able to live decent lives."
LAST MILE HEROES: Richard Brown; building relationships that create relevant solutions for smallholder farmers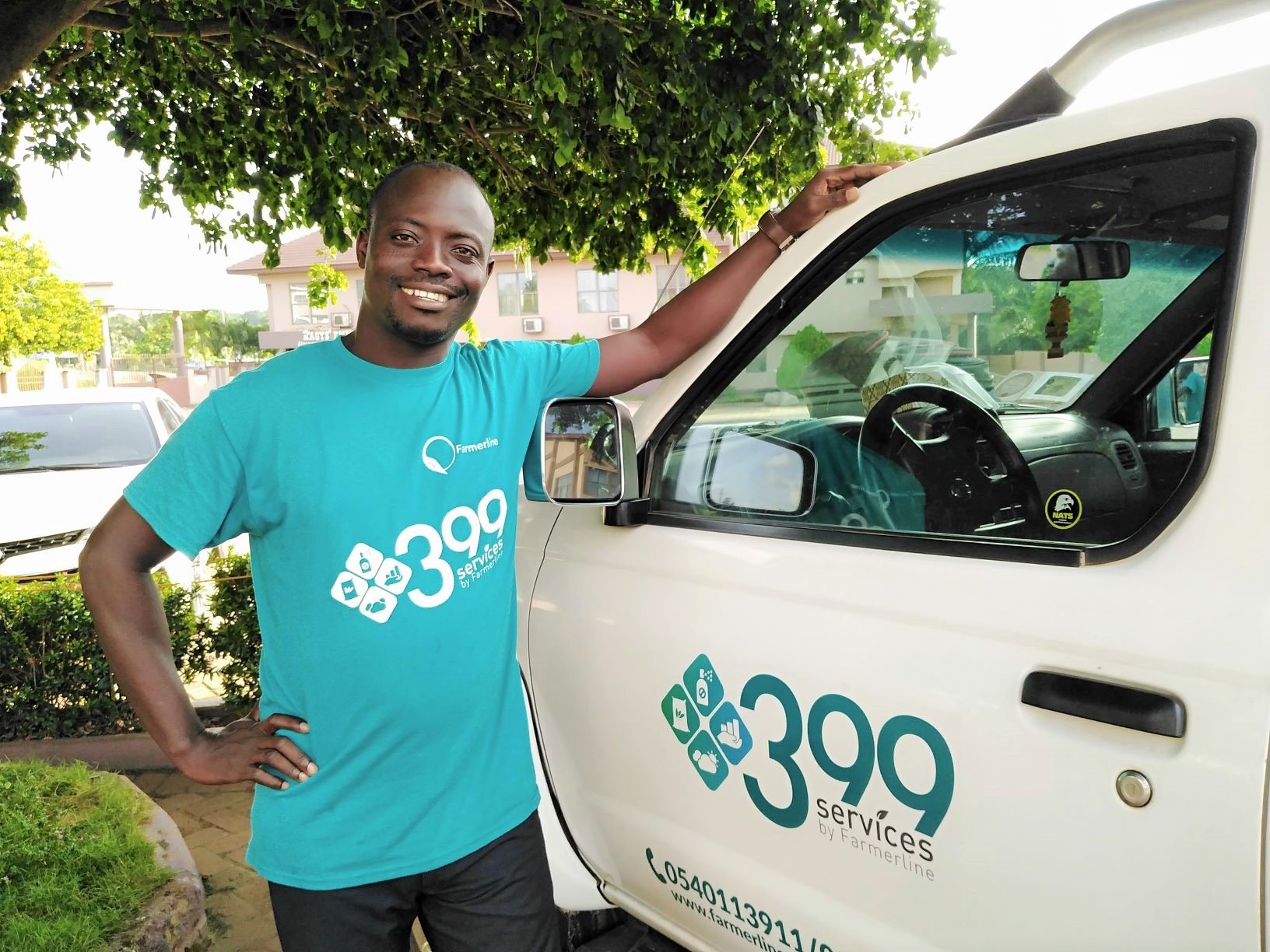 September 27, 2019, 1,389 views
The most robust solutions are often found when a bridge can be built between technical knowledge and experiential knowledge. Farmerline is an organisation that reinforces the need for such solutions in driving up productivity in the agriculture value chain. The company has been successful in its efforts because its team embodies this principle. Meet Richard Brown, one of the team members at Farmerline who combines his academic and practical know-how in his daily work with farmers.
Richard is a Zonal Manager at Farmerline. His work entails leading a team of smartphone-empowered field and community agents who bring Farmerline's solutions to farmers in communities in the Asante Akim Central, North and South Districts. He has a degree in Agriculture, and field experience from time spent on his grandparents' cocoa farm and prior job experience with Ghana's Food and Agriculture Ministry. Richard's knowledge and experience have made him cognizant of the need to build relationships with community heads and farmers in order to bring forth relevant solutions that will create lasting profit.
Read Richard's interview, below:
How did you join Farmerline on its mission for farmers?
I joined Farmerline through a post a friend shared on his Facebook wall; I saw the position being advertised; the job description and I was fascinated about the mission of the Company and I decided to apply so I can impact in the lives of our rural Farmers.
I have always had an interest in Agriculture. My grandparents are Cocoa Farmers and I have had the opportunity of helping them on their farm activities. My education in agriculture and experiences in the field have enabled me to see the vast opportunities in the Agriculture value chain. There are numerous challenges rural farmers are facing that can be improved with access to the right resources and information. These challenges present avenues for innovative solutions like Farmerline. I am also very confident that these solutions coupled with the adoption of technology in farming can go a long way to improve the industry's contribution to the growth of our economy.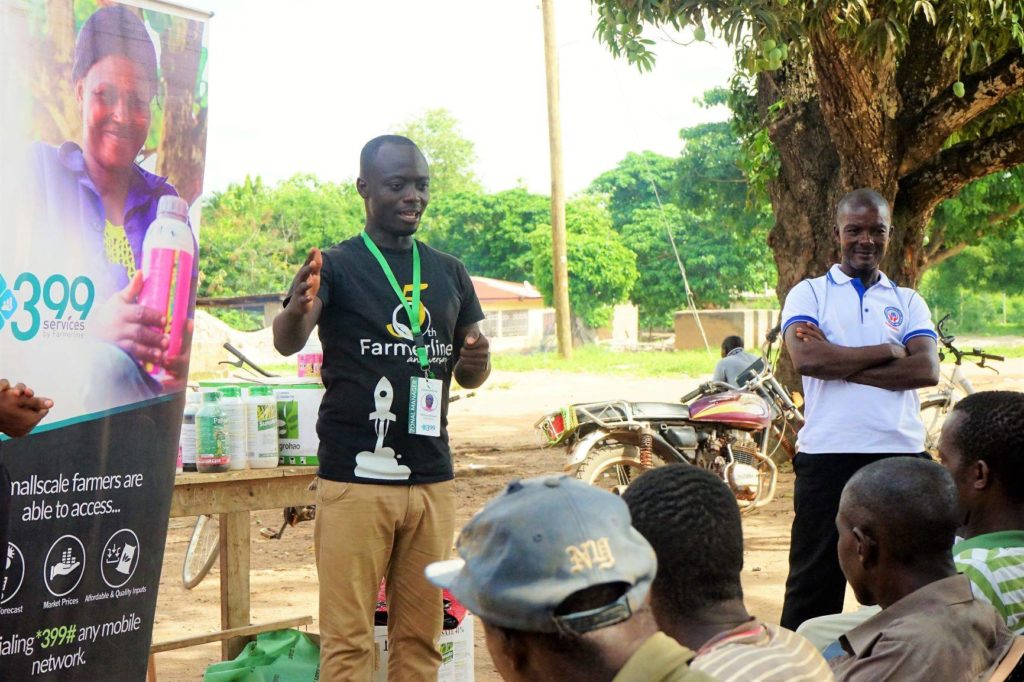 As a Zonal Manager, how do you lead your team to achieve set goals?
I lead a team of two Zonal Officers and 79 Community Agents in my operational areas. Our focus anytime we go into a new farming community is to understand the peculiar needs of the farmers and build a relationship based on trust with community heads and farmers. This is how we are able to successfully offer our solutions for improved farmer productivity. Farmers have vast knowledge in fieldwork even though some of their practices are flawed. So out in the field, we interact with them to exchange knowledge. They tell us how they go about their work and how they deal with challenges. We help farmers to see how new practices and technology can make their work and lives better. We provide all farmers with digital identity cards which enables them to access our mobile extension services and inputs on credit. We are basically extension officers whose work are enhanced by technology.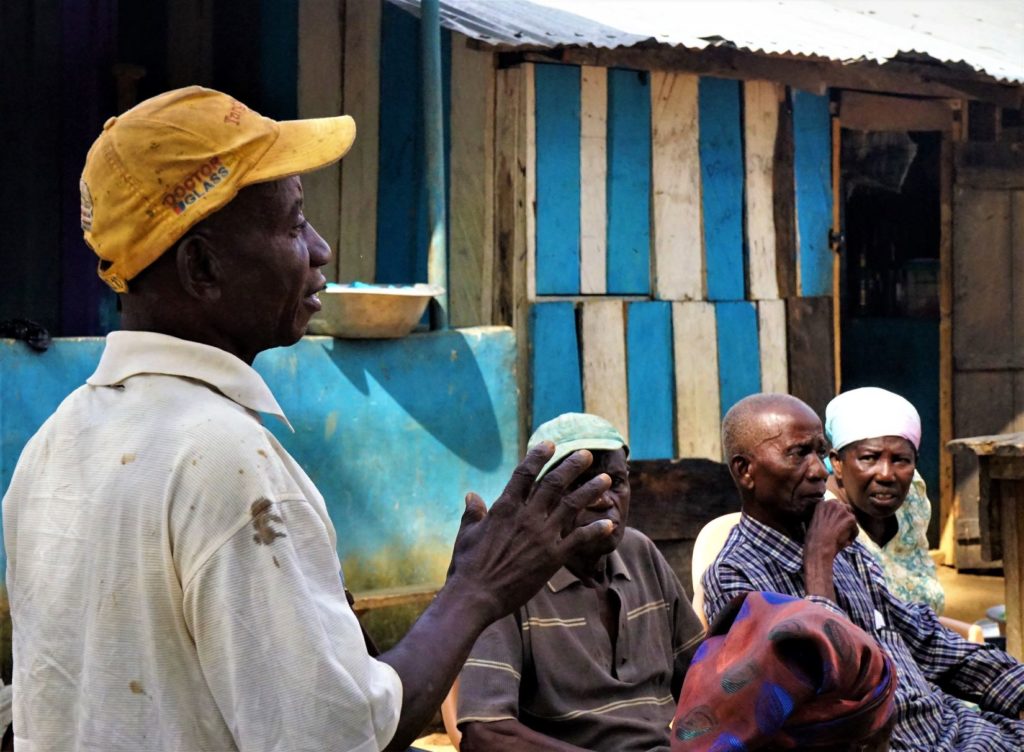 How do you and your team stay motivated throughout the challenges on the field?
The impact we are making in the lives of Farmers is what keeps us motivated. It is always a proud moment when we see our technology and education on better agronomic practices increasing their yields and incomes. We are always elated when we deliver their input requests on time because we know that timely input delivery is very important to their productivity.
Farmerline's regular training also provides us skills that help us to better engage, educate and identify farmers' challenges. This also enhances our ability to offer relevant solutions to farmers.
In your experience, what are some of the opportunities that are available for young people in agriculture? 
More than ever, young people today, have the opportunity to transform the agriculture sector because of their exposure to technology. With technology, they can bridge the access gap and offer services to the industry across the value chain in the area of commercialization, sales and marketing of produce and processing of agricultural produce.
Learn more about Farmerline's 399 services for smallholder farmers and its unique distribution model.

Boosting the 'ground force' with intentional field and leadership training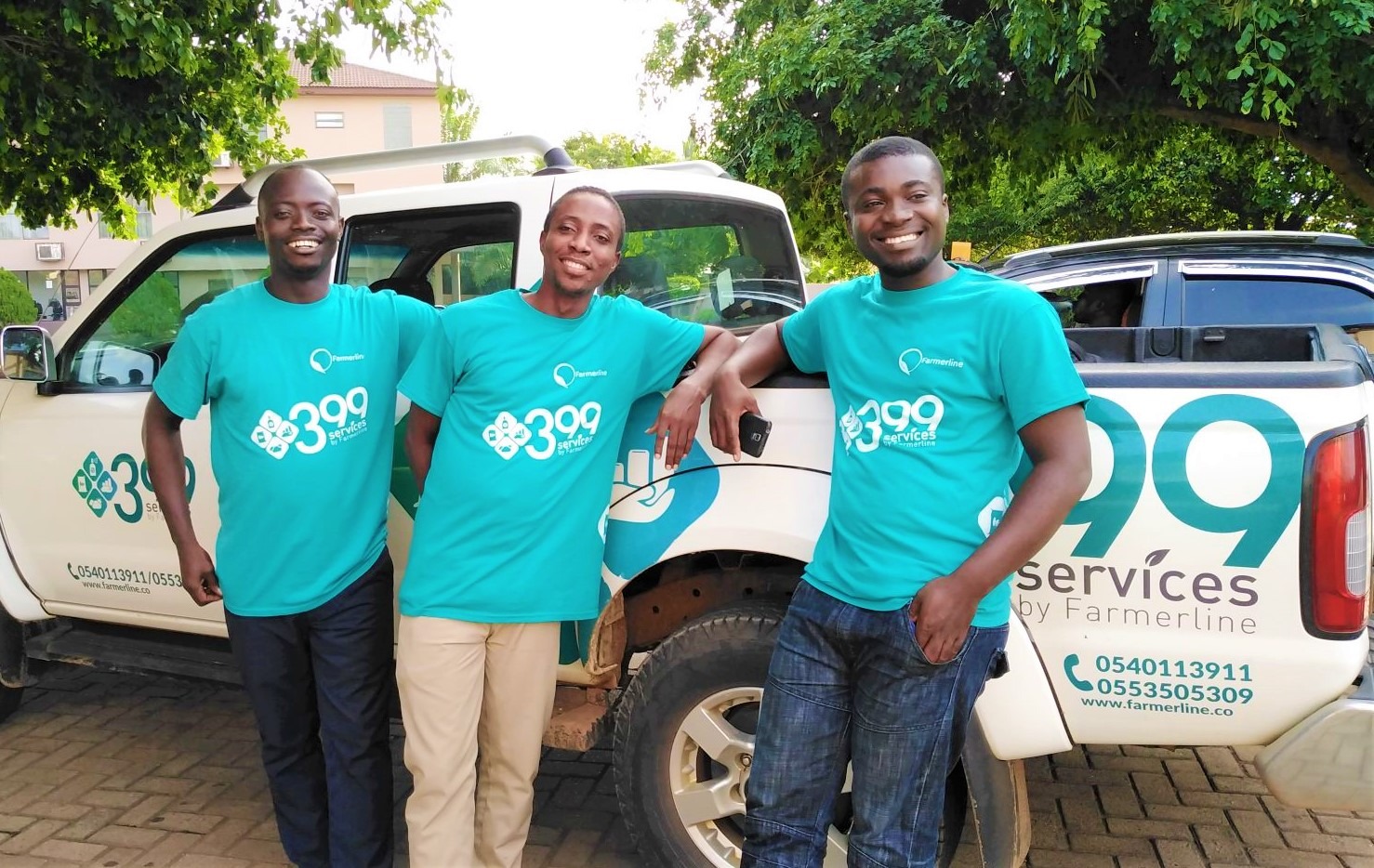 June 25, 2019, 76,167 views
Field agents are the true connectors in most industries. They enable direct interactions that humanise brands and organisations allowing for stronger affiliations and a great feedback system. In the agriculture value chain, field agents are the sustainers and enablers of last mile transactions between farmers and other players. Their involvement in products and service distribution channels is a requirement to successfully manage a robust agriculture extension or distribution service in most developing regions.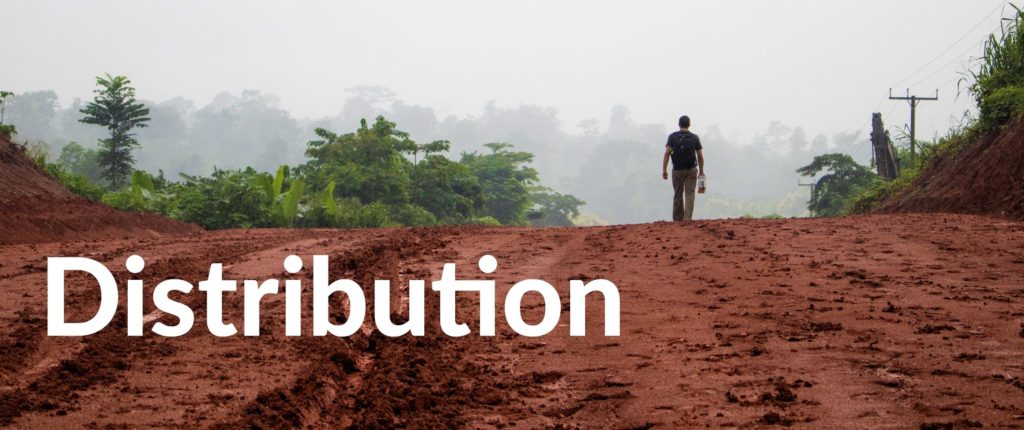 Systems and conditions in some developing regions make it challenging for agriculture service providers to easily distribute essential products and services to farmers who mostly live and work in remote communities. Connecting these communities to larger markets, therefore, involves huge investments. The Miller Center for Social Entrepreneurship describes such investments as 'accounting for poor infrastructure, retaining and growing a large network of motivated agents'. Farmerline's mission to directly impact farmers' lives and businesses, drove it to develop a unique distribution model which relies on people and technology right from the beginning of its operations. Farmerline's network of over 200 smartphone-empowered field agents travels far and near to deliver vital services and information to farmers' doorsteps. In order to sustain and grow its distribution system, Farmerline has, over the years, heavily invested in the field agent network. Agents are equipped with essential resources for field work and are given world-class training in using the Mergdata Platform, sales, leadership and communication. The organisation has partnered with renowned experts in these areas to deliver hands-on training that improves agents' fieldwork.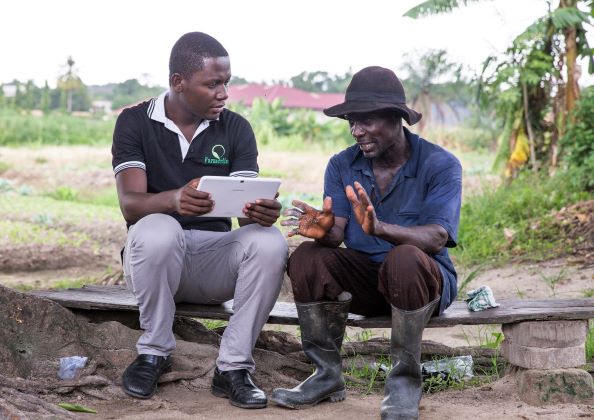 The training modules are also focused on equipping agents to overcome challenges while in the field. Earning the trust of farmers is one of the major challenges. By learning better communication techniques, agents are able to listen and interact in a manner that earns them farmers' trust and attention. Earning a farmer's trust allows further interactions that build understanding, informs Farmerline's solutions and enables farmers to easily adopt the solutions.
The trainings are also delivered to boost agents' ability to execute their work efficiently and thrive in the field no matter the condition. Whether working in a team or as an individual, agents are given skills that help them to come up with solutions even in situations where they may not be fully equipped to handle. They have clear roles and expectations that enable them to also work efficiently as a team. They are therefore able to focus on the most important things while saving time and resources.
Fieldwork is tough and comes with a lot of unforeseeable challenges. Training field agents is vital to keep them confident and motivated about their work. Training improves their skills and their approach to work. It allows them to stay focused on the goal of transforming smallholder farmers into successful entrepreneurs and keeps them driven to achieve this goal one community at a time.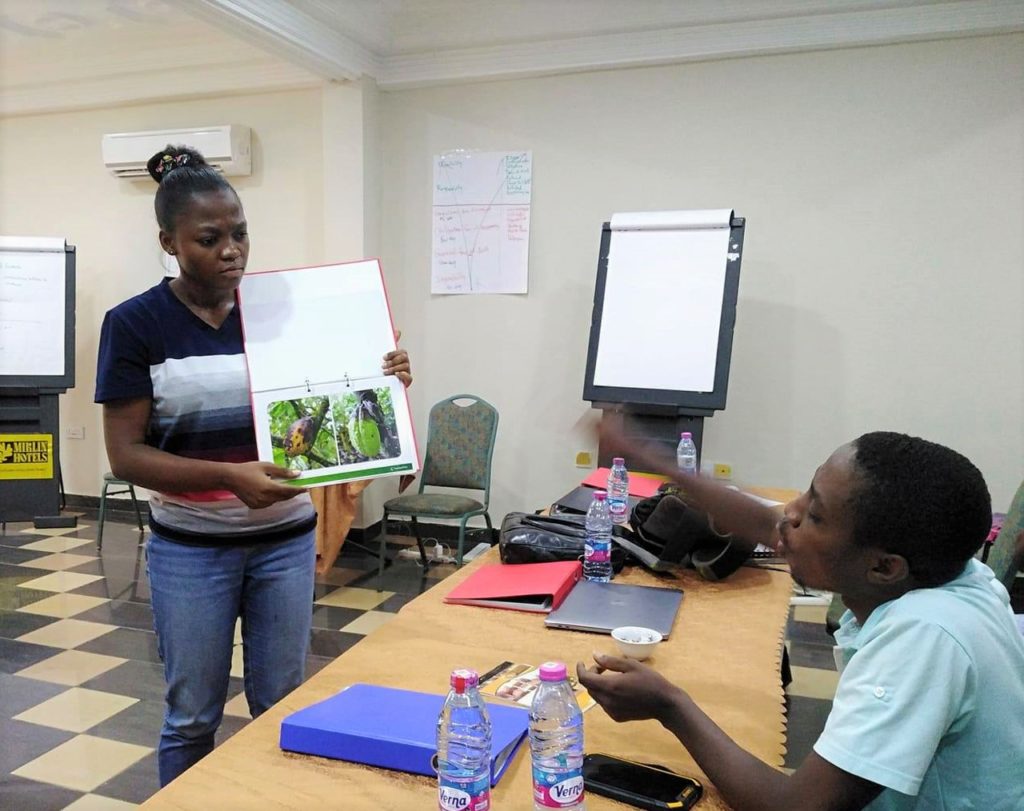 Investing in field agents has enabled Farmerline's operations to make great impact. According to a recent 3rd party impact assessment conducted by Acumen Lean Data, 65% of the farmers reached are receiving quality and affordable inputs for the first time. 89% of them are satisfied with the service and would like to continue working with Farmerline. The field agent network has been able to reach some of the most vulnerable farmers as 54% of the beneficiary farmers live below the poverty line. Over the next three years, Farmerline plans to leverage it's agent network and technology to connect over 126,000 farmers in Ghana to extension services.
Farmerline's growing field agent network is made up of a hierarchy of passionate people who move products and services from national centres all the way to individual farmers in farming communities. They connect smallholder farmers to information services; weather forecast, market prices and good agricultural practices. They also deliver quality and affordable farm inputs directly to the farmers. These field agents are at the heart of Farmerline's operations, deploying last mile digital tools that facilitate subsequent interactions and transactions with farmers.
Learn more about our distribution model and the people who drive its success.

Nav Menu Other
February 13, 2019, 238 views
Landing Ribbon
, 246 views
We are creating prosperous farmers & thriving agric businesses through the following brands;
Landing Post
, 1,138 views
Creating lasting profits for farmers everywhere
Farmer Education  |  Input Finance & Distribution  | Market Access
Apply For Job
August 1, 2018, 51,142 views
Latest Post
Categories
Tags
Subscribe