Blogs
Smallholder farming in Ghana: A story of challenges and opportunities.
November 15, 2016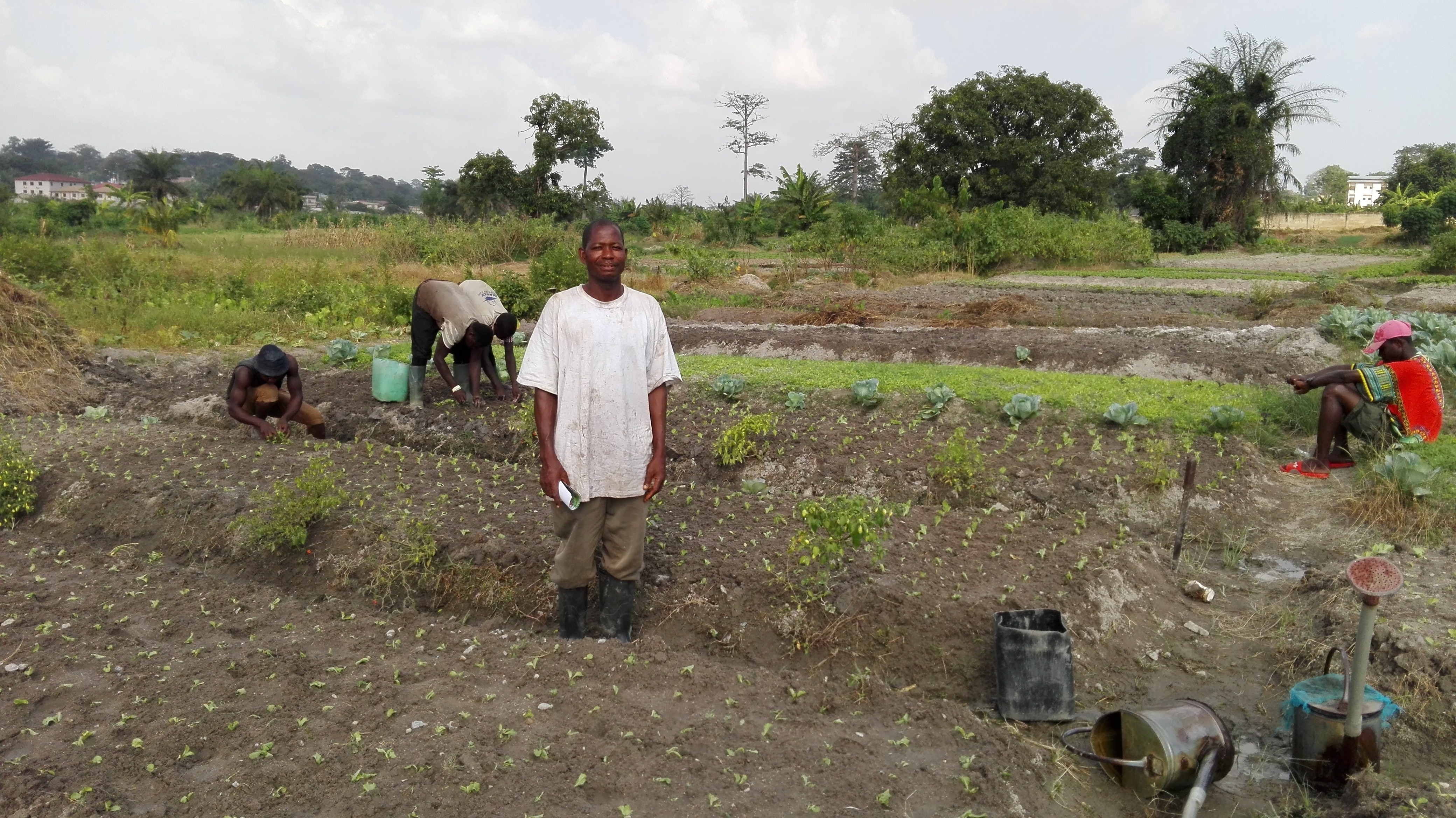 At a time when people in his age group were roaming streets in the city in search of white-collar jobs, Douglas Adjei was thinking of how he could produce enough food from his farm in Gyinase, a suburb of Kumasi.
Although his vegetable farm is taking shape now, Douglas has set a higher target for himself: to be able to produce enough food from his farm to feed Ghanaians and export the extra.
In this interview with Farmerline's Lily Akorfa Keledorme, Douglas speaks on his life as a smallholder farmer, the challenges (weather, pests, market prices) and opportunities (improved yield, more income, sustainability) he faces every day.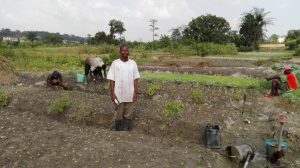 Douglas Adjei on his vegetable farm with his three employees.
What are the most difficult things about being a farmer?
The first challenge for me as a farmer is the lack of labour. On my farm, I need about 10 farm hands but I only have three (3) even though they are well paid (GHC 300.00/month). Unfortunately, all my workers are from Burkina Faso. The problem is that the Ghanaian youth is not interested in working on farms because it is tedious (since we still practice traditional farming methods). They rather prefer having white collar jobs or jobs that yield quick money.
Another is irrigation. We currently fetch water from our wells and then use watering cans to water the crops. Because of the vast land we work on, sprinklers will make our work less stressful and increase productivity. But I have not been able to buy a sprinkler yet because it costs GHC 1000 and I will need 5-10 of those for my farm. This affects production especially during the dry season when market for vegetables is high.
Though we experience many other challenges like lack of financial support, marketing has been one of our paramount problems. Prices of vegetables fluctuate often and are mostly priced low. This is because vegetables cannot be stored for long so they have to be sold off at low prices to prevent post-harvest losses and this consequently affects the revenue we generate at the end of the season.
Hearing these challenges, was farming your first choice of profession?
Yes, I actually studied Agriculture in school and wanted to further my education so that I would practice agriculture professionally. I was still a student at the O'level when my father passed on, which sort of thwarted my plans. I had wanted to complete the university (or a good tertiary institution) before venturing into agriculture. But due to certain circumstances, I started farming after my O'level.
So growing up, farming was your biggest dream?
Yes, and I wanted to be very successful at it. I have always wanted to expand my farming business. I have even started a piggery (about 3 months ago) to enlarge my scope.
Having enlarged your scope now, do you envision a future where your children are involved in your farm?
I have 4 children. The oldest is 18 years; in SHS 3 and she wants to be a nurse. Looking at how farming is difficult in Ghana, I would not really want them to be (peasant) farmers but maybe extension officers. I will only agree if the farming is professional like how it is done in Indonesia where it is not labour intensive and traditional methods are not used in the farming.
Farmerline's Lily Akorfa in a selfie moment with Douglas.
Coming back to your farm, how have you managed diseases and pests?
I use pesticides and other chemicals to control pests and diseases on my farm after I have read the labels on the containers. Dziengoff and other NGO's also organise workshops to give us training on such technologies.
How often do you receive agronomic tips?
I get that from Farmerline and it is very useful. Initially, we had no idea about some agronomic practices and we did not use the appropriate methods then. Now we have knowledge on post-harvest methods/tips such as harvesting with sharp knives and keeping produce in cool places which have a big impact on the freshness of the end product. Another important thing I have learnt is when and how spraying should be done. I apply all the things I get from Farmerline's agronomic tips.
In a period where climate change is dominant, what has been your experiences with the weather?
We can't tell weather patterns on our own like our forefathers used to. This is why Farmerline's weather updates has been very good and relevant to the work I do. It helps me with planning and it determines my activities for the day. The accuracy is about 70 %.
How do you envisage that market price information will help you?
Though I have not yet subscribed to a market price service yet, I foresee it will give me a general outlook of prices of goods on the market. Since I send my produce to Accra, it will be significant to my business.
Farmerline's Lily Akorfa in a hearty conversation with Douglas.